Assalamualaikum & Salam Ceria
Benton Aloe BHA Skin toner, Snail Bee High Content Lotion, Snail Bee High Content Steam Content, Benton Snail Bee High Content Essence
Benton is a Korean skincare company and the name itself derived from Benjamin Button, which is inspired from a movie whereby the man ages backwards. In this movie, Brad Pitt started his life as an old man and then slowly he became younger as time goes by. Eh wait, I'm not trying to review a movie right now, ahaha. So, basically that's the concept of this company.
When I first started trying Benton, I was worried. My face had break out and trying a new product is a brave act for me.
<This post is based on personal view and not from a medical view. No payment was made for me to be this diligent to write this>
These are the products that I've tried. Since I've finished all of the products, I'll just be showing you guys the picture taken from google ya.
Benton Aloe BHA Skin toner
Benton Aloe BHA Skin toner
I even made a video to show the consistency of the toner to uolls. Sorry for bad video quality. *cough
The price actually varies depends on where you'd buy online. I preferred buying through Lazada / Shopee. But made sure buy it from a trusted seller who sell original products. I would say the price would be around RM30-RM50.
The consistency is like you'd a runny nose. It is not that sticky. It contains 0.5% BHA (beta hydroxy acid) which can act as daily chemical exfoliator. It also contains aloe vera, snail secretion filtrate and hyaluronic acid which works great for hydration purposes. Using this toner can remove some of my dead skin and blackheads (I noticed this after changing to other toner, so I getback with this toner). Anyway you guys can also check up cosdna for details of the ingredients. I highly recommended this product to acne prone skin or to someone who wants to try chemical exfoliator which is very mild.
It doesn't cause itchiness or redness for me.
An easy 5/5 for me.
2.
Snail Bee High Content Lotion
Snail Bee High Content Lotion
I'd ran out of this product. It is a lotion which is less heavy than moisturizer. Love this lotion because it really gives that hydration. I kinda forget how much this cost but the price varies based on where'd you buy from. The only thing that I would like to complain is about how small the bottle is. Otherwise, the consistency is like creamy, gives hydration and gives sense of warmth to the skin (??). The smell is ok. Check cosdna if you guys want to see the full ingredients.
Love this product, I'll give 4/5 since it gives hydration I needed.
3. Snail Bee High Content Steam Content
Snail Bee High Content Steam Content (Moisturizer)
I'd just realized I used a lot of snail products + bee venom before ahaha. This one is a moisturizer, thicker than a lotion. Lotion and moisturizer had the same purpose but lotion targets for oily skin and moisturizer targets for dry skin theoretically. But you guys are welcomed to experiment anything you guys want. This moisturizer had thick consistency that your skin will feel drowning in hydration. Sometimes, I think it will be too thick for me to apply this during daytime in good all year around summer of Malaysia. This product also gives the sense of warmth to my skin but no itchiness detected. This product doesn't clog my skin so it doesn't break me out despite the heaviness that it gives. I recommended this if you guys wanted something RICH for your skin. Really improved my skin consistency (due to good hydration).
I gave this 3.98/5 because I cannot really wear this comfortably during daytime.
Great for night time though.
4. Benton Snail Bee High Content Essence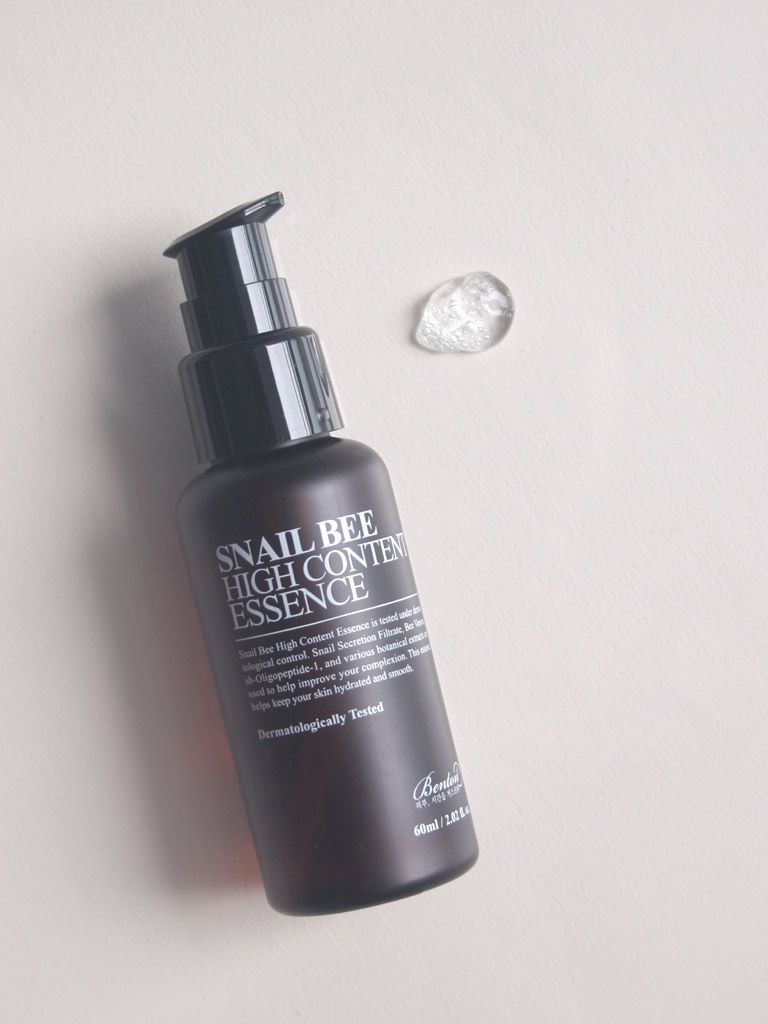 Benton Snail Bee High Content Essence
This essence I bought when I first tried The Ordinary Niacinamide. But because my skin's barrier was not fully armored at that time, I learnt that I need to layer my skin with essence first before using serum. It really does its job layering well and my skin wasn't hurt / feel sting sensations when I applied niacinamide serum on my skin. The consistency is almost gel-like but it is not sticky. The colour is clear.

Essence is actually not one of the main basic skincare routine but it falls under 7 step skincare routine. So adding essence is not a must.
I give this essence 4/5.
Among the products that I've mentioned, the product that I'd always buy again is toner. The other products, it is not that I don't want to buy again, but my curiosity towards other products overpower my loyalty towards one product. But at least, deep down I know that my skin would always accept most of benton products which I am grateful. Of course we have to be grateful to find our 'soulmate' / holygrail product.
I'm still eyeing for Benton eye cream but waiting for my economy status to be stable (>,<)
Psst, if you guys want to buy from Lazada / Shopee, download shopback apps first. So you guys can get back your money after buying your skin care products.
Click this link -
https://app.shopback.com/mys?raf=ldgRc4
to get immediate RM5 to your account. I regretted not to find any referral link so I can get free RM5.
But remember, before buying from any site, enter through this shopback apps first then choose your preferred site from there.
This is how shopback can trace your shopping or your shopping will go to waste.
Done honestreview :3